About Us
Food is really what we are all about but not just any food. We believe that whatever the occasion and budget our customers deserve the very best food at the very best price.
Forget mangy pork pies and curled up sandwiches. We only use the very best ingredients, many nurtured near to our base in Corby, Northamptonshire to ensure you love the experience. At home or in work or where ever takes your mood or meets your needs.
We create food with thought so you can taste the difference.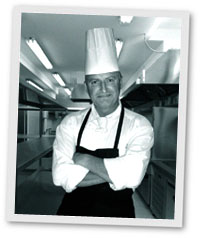 Chef Des Wallington spent 22 years in the Navy including a few years as the personal chef to the First Sea Lord at Admiralty Arch in London – regarded as THE top job for a chef in the Navy. It means he has cooked for Royalty, MPs, the great, the good (and not so good) from all walks of life.